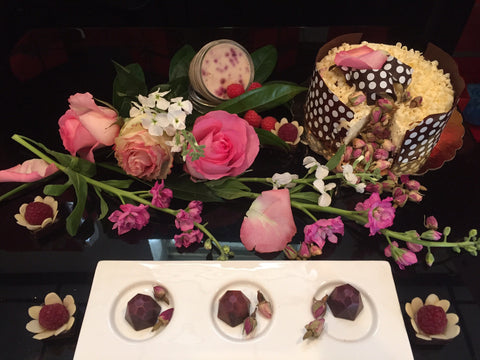 Le Rouge kitchen is abuzz with whipping up unique chocolate concoctions that are both visual and gastronomic delights to impress your love this Valentine's Day!
Here is a sneak peak.....
Roses + Chocolates = Love
Ditch the traditional Rose Bouquet and traditional Chocolates and indulge your senses with
Le Rouge's unique Preserved Rose Cake & Truffles....
Premium Dark Chocolate is infused with preserved Rose Petals to create a Heavenly European Ganache that is layered on a Gluten Free Brownie base and finished off with Signature Chocolate wrap to make this unique cake .......
Or you can get the same gastronomic delight in the Preserved Rose Petal Truffles which are hand made and hand painted, one piece at a time to look like little jewels
Raspberry Flowers
If roses aren't your thing, try our one of a kind Raspberry Flower Truffles to indulge your Love...
Dark Chocolate shells are filled with decadent Raspberry Ganache, topped with Fresh Raspberries and adorned with Slivered Almonds, one petal at a time.......
Create Your Own Chocolate Bar
Create one of a kind Chocolate Bar to express your Love this Valentine's Day
Choose the type of Chocolate, choose a nut, a fruit and we will make the bar  and hand paint it for you
A Chocolate Bar as unique as you.......
Chocolate Making Classes for Just Men
You want to impress your Love this Valentine's Day, then head over to Le Rouge Cafe to learn how to make a chocolate concoction all on your own... psssst we will help but no one needs to know that!
Various Sessions available.
Couples Chocolate Making Class on Valentine's Day
Create a perfect memory with your Love this Valentine's Day by signing up for our Couples Class.
We will welcome you with our Signature Hot Chocolate while enjoying a slice of Le Rouge Cakes. 
Then its time to get your hands in Chocolate to make a unique gift for each other. You will have a choice of Chocolate Covered Fruits or make truffles of your choice........
& For the Last minute Shopper....
For all of you who leave it for the last minute, we will have a large selection of Chocolate Covered Strawberries, Molded Chocolates and other delights to impress your love....
Stop by our Flagship Store in downtown Westport CT or visit our website LeRougeByAarti.com